Speakers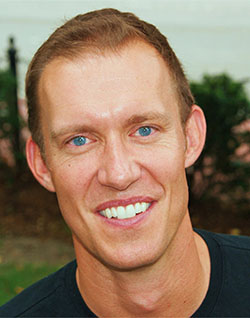 Erik Qualman
Technology and Digital Leadership Expert; Author of "Socialnomics"
Listen to Erik's Speech

Best-selling author Erik Qualman brings his digital expertise to the world of international education. He'll explore innovative ways educators can harness the power of technology to reach the digital-native generation and increase experiential learning.
Qualman is the author of six books, including "Socialnomics," which made Amazon's #1 Best Selling List for the U.S., Japan, UK, Canada, Portugal, Italy, China, Korea, and Germany. He served as an MBA Professor at the Hult International Business School and for the past 18 years has helped grow the digital capabilities of companies including Cadillac, EarthLink, EF Education First, Yahoo, Travelzoo, and AT&T. He is the founder and owner of socialnomics.com, which PC Magazine ranks as a Top 10 Social Media Blog.
Qualman has lectured in 47 countries to over 25 million people and is best known for writing and producing the world's most watched social media video, "Socialnomics." He holds a BA from Michigan State University and an MBA from The University of Texas, and his work has been highlighted on "60 Minutes," "The New York Times," "WSJ," ABC News, "Financial Times," "Forbes," and "The Huffington Post." He has been named a Top 100 Digital Influencer by "Fast Company" and put on "Forbes" Top 50 Power Influencer list.
Kimberly Bryant
Founder and CEO, Black Girls CODE
Listen to Kimberly's Speech
Founder and CEO of Black Girls CODE Kimberly Bryant will share the inspiring story behind the creation of Black Girls CODE, and why – after a 25+ successful career in engineering – she was determined to "change the face of technology."
Black Girls CODE, is dedicated to introducing girls of color (ages 7-17) to the field of technology and computer science with a concentration on entrepreneurial concepts. Black Girls CODE is now an international organization with ten chapters across the U.S. and in Johannesburg, South Africa.
Bryant serves on the National Champions Board for the National Girls Collaborative Project, and the National Board of the NCWIT K-12 Alliance. She has been nationally recognized as a social innovator for her work on increasing opportunities for women and girls in the tech industry. For her work supporting communities in the San Francisco Bay Area, she was honored with the prestigious Jefferson Award for Community Service. She has also been recognized by "Business Insider" as one of the "25 Most Influential African-Americans in Technology" and was named to "The Root 100" and the "Ebony Power 100" lists. Bryant is also an Apple STEM Partner, Aspen Institute Fellow, recipient of Smithsonian's American Ingenuity Award in Social Progress, White House Champion of Change, and Toyota Standing O-Vation.