Speakers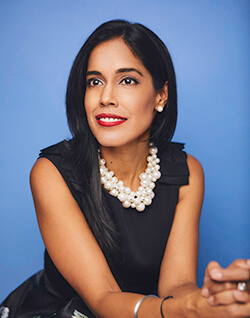 Ritu Bhasin
Leadership and Inclusion Specialist; Author; President of Bhasin Consulting
Globally-recognized leadership and inclusion specialist, Ritu Bhasin, brings her expertise to the world of international education during the CIEE Welcome Breakfast and Opening Plenary. Inspired by her own journey to overcome racist childhood bullying, Ritu has committed to disrupting the status quo and building a world where everyone can celebrate their differences and the differences of others. Known for her expertise in cultural competence, unconscious bias, and neuroscience strategies, she has coached hundreds of professionals, leaders, and executives to be more inclusive.
As a passionate advocate for authenticity, inclusion, and empowerment, Ritu has won numerous awards for her work, including the City of Toronto's William P. Hubbard Award for Race Relations in 2014.
In 2010, Ritu launched Bhasin Consulting Inc., a diversity and inclusion-focused consulting firm and has since gained a global reputation for her work in leadership development, diversity and inclusion, and women's advancement. Before founding Bhasin Consulting Inc., Ritu was a practicing lawyer, and the director of legal talent at a preeminent Canadian law firm. She earned an MBA from the University of Toronto's Rotman School of Management, an LL.B. (with Distinction) from the University of Western Ontario, and she served as an instructor in the Executive Program at the Rotman School of Management. Her first book, The Authenticity Principle, was release in 2017, and is now an Amazon bestseller.
André Robert Lee
Filmmaker; President & Founder of Many Things Management
Join us for an inspiring reflection on diversity from André Robert Lee at this year's Annual Luncheon. André will illustrate sources of identity, examine the problems that occur when those identities clash, and what we, as individuals, can do to overcome these obstacles.
André produces and directs film and television for Point Made Films and his production company, Many Things Management. He wrote, directed, and produced The Prep School Negro, a film documenting his personal journey as a high school scholarship student. The film explores what he gained intellectually but lost emotionally when he left the streets of Philadelphia each day to attend an elite private school. Since 2009, he has taken The Prep School Negro to several hundred independent high schools, colleges, and conferences to lead discussions about how institutions can move beyond diversity initiatives and create a sense of belonging for underrepresented students. In 2014, he produced a second documentary, I'm Not a Racist … Am I? and continues to travel around the U.S. facilitating screenings and workshops.
In addition to presenting his films at hundreds of schools, André serves as a consultant and advisor for Connecticut College's Mellon Undergraduate Research Program in the Arts and Humanities. He has worked with New York City Public Schools, The Ford Foundation, Miramax Films, HBO, and DreamWorks, and has been a speaker at The Gates Millennium Scholars Program Leadership Conferences. André is a member of the Connecticut College Alumni Board of Directors and the Advisory Board for Ready Willing and Able: The Doe Fund, Inc. He also serves on the Jury for the Academy Awards Student competition and serves as a Reader for The Gates Millennium Scholars Program.