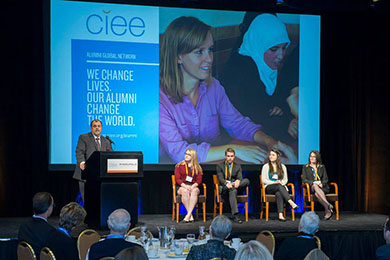 CIEE is excited for our 2013 Annual Conference featuring the powerful speakers, interactive sessions and workshops, unique events, and important networking opportunities that our conferences are known for.
During four exciting, informative days, leaders and experienced professionals in the field of international education will come together to investigate how we can ensure an international learning experience is part of every student's education today. We'll explore how we can create new types of programming that meet all students' needs, break down the barriers—cost, curriculum, and culture—to studying abroad, ensure quality across all international experiences, and bring internationalization to all aspects of student life, both in and out of the classroom.
Together, we must:
Align resources to create best practices for integrating an international component into existing and new curricula
Innovate our approach to programming to meet the needs of today's students and faculty
Educate students and institutions by embedding the expectation of study abroad into students' educational plans from the beginning of their college careers
Speakers
Phil Borges
Opening Plenary and Reception Speaker
Through his inspiring photography and films, Phil Borges has transformed audiences' perceptions of cultural diversity, gender equality, and other social issues facing developing regions of the world. He seeks to create a relationship between the audience and his photographic subjects, stating, "I want the viewer to see these people as individuals, to know their names and a bit of their history, not just to view them as an anonymous part of some remote ethnic or tribal group."
Borges is the founder of Bridges to Understanding, an online classroom program that connects youth worldwide through digital storytelling to enhance cross-cultural understanding and build a sense of global citizenship in youth. His most recent work, Tibet: Culture on the Edge, uses full-color portraits to bring his audience face to face with those living in one of the most fragile environments on Earth, who face a rapid induction into the 21st century while trying to retain their Tibetan Buddhist practice and culture. Past works include the book and exhibition Women Empowered, created with the organization CARE, which highlights the oppression and discrimination of women and girls in the developing world, and the exhibition Stirring the Fire: A Global Movement to Empower Women and Girls.
A special screening for conference attendees of the 2013 groundbreaking film "Girl Rising," directed by Academy Award nominee Richard Robbins, will be shown following the Opening Reception. Learn more about the film and watch the film trailer.
Ann Bancroft
Annual Luncheon Speaker
A Minnesota native and avid outdoors enthusiast from a young age, Ann Bancroft has shattered female stereotypes and earned acclaim as one of the world's preeminent polar explorers. She is the first known woman in history to ski across ice to the North and South Poles and was the first woman, along with her fellow adventurer Liv Arnesen, to cross Antarctica.
An educator and philanthropist, Bancroft is dedicated to sharing the stories related to her dreams of outdoor adventure with the hope of inspiring a global audience to pursue their own dreams. She has worked with many young people, a population where she finds endless hope and optimism and the conviction that anything is possible. In 1991, she founded the Ann Bancroft Foundation to create curricula based on the historic 1993 all-women's Antarctic polar expedition, which reached more than 200,000 students worldwide. Today, the Foundation has focused its mission on Bancroft's vision to provide every young girl who dares to dream with the support, inspiration, and resources needed to make those dreams come true.
Justin Reeves
Featured Documentary Screening: Girl Rising
Justin has six years of experience working in South America as an anthropologist, teacher and in development with various non-profit organizations benefitting girls and women. He was awarded an Ambassadorial Scholarship by Rotary International which allowed him to pursue his Master's degree in journalism and a post-graduate program in documentary screenplay writing in Santiago, Chile at La Universidad Católica de Chile. While in Chile, Justin focused his non-profit work on women and children living with HIV/AIDS and his production work on women marginalized by mental illness. Justin moved to New York City in 2010 where he joined forces with Girl Rising, confident knowing that empowering and educating girls and women is the key to a more harmonious world. He enjoys educating audiences about the importance of educating girls and has presented at: TEDxUnisinos, Social Media Week NYC, Google Latin American Leadership Conference. Justin is hopeful that his lead will inspire other men and women to invest in girls.
Schedule
Wednesday, November 20
8:00am-4:30pm
One-Day International Faculty Development Seminar
Intercultural Accommodation, Integration, or Assimilation? An Encounter and Exchange with Minneapolis' East African Immigrant CommunityCait Vaughan, CIEE-Portland, Maine; Laura Sweet, CIEE – Portland, ME

9:00am-3:00pm
Pre-Conference Workshop I:
Planning, Implementing, and Sustaining Curriculum Integration of Education AbroadGayle A. Woodruff and Kim Hindbjorgen, University of Minnesota
Facilitators: Amy M. Henry, Georgia Institute of Technology; Joseph G. Hoff , University of Richmond; Christine Parcells, University of Virginia; Kate Maple, University of Minnesota

8:30am-5:00pm
Pre-Conference Workshop II:
Demystifying Digital Storytelling: Narrating International Experience with Digital MediaBrian Liesinger, Heart Mountain Wyoming Foundation
Facilitators: Sarah Tschida, University of Minnesota; Doug Reilly and Tom D'Agostino, Hobart and William Smith Colleges
Diversity Abroad Future Leaders Summit in Partnership with CIEE
How do we attract a wide and diverse range of students to study abroad? This interactive workshop, developed by CIEE and Diversity Abroad, will bring together 20 of today's campus leaders and change agents in international education to answer this question by brainstorming new solutions for overcoming one of the three leading barriers to study abroad, curriculum. The goal: to develop actionable solutions to increase access to study abroad by students of diverse racial/ethnic and economic backgrounds and academic majors.

5:00pm-6:00pm
Rainbow SIG Meeting

6:00pm-7:00pm
Opening Plenary
Featured Speaker: Phil Borges

7:00pm-8:00pm
Opening Reception

8:00pm-9:30pm
Featured Documentary Screening: Girl Rising
After the screening of Girl Rising, don't miss the opportunity to hear from Justin Reeves, Director of Partnerships for the movement. Justin will join our conference to share his experiences while working on this groundbreaking film, will speak about Girl Rising's seven global NGO partners, and will provide information about how you can get involved in empowering and educating girls in your community and around the world.

Thursday, November 21
8:30am-6:00pm
Exhibit Hall and Internet Café

Concurrent Sessions | 9:00am-10:15am
Engaging Alumni: From Re-entry to Post-Graduation
Susan Pratt, CIEE – Duke University
Campus Internationalization – Strong Brand Required
Brenda Majeski, CIEE – Portland, Maine
On-Campus Synergies and Collaboration to Improve Domestic and International Students' Learning Abroad
David Wong, Michigan State University
Collaborative Approaches to Supporting Pre-Health Professional, Nursing, and Health Sciences Undergraduate Students' in Education Abroad
Scott Daby, University of Minnesota

10:15am-10:45am
Coffee Break and Poster Fair

Concurrent Sessions | 10:45am-12:00pm
The Essentials for Students with Disabilities Studying Abroad
Michele Scheib, Mobility International USA
Rooting Our STEM Students: Using Experiential Education to Engage STEM Students in International Programs
Angela Shaeffer, Cultural Vistas
Walking the Walk: Maximizing Opportunities for Faculty and Staff Professional Development
Erin Santana, CIEE-Portland, Maine
Reciprocal Competency: A Pedagogy of Global Engagement
Mireille Cronin Mather, Foundation for Sustainable Development

12:00pm-1:00pm
Open Forum: Education Abroad Directors and Managers
Moderators: Timothy Lynn Elliott, Brigham Young University; Mary Dando, University of Colorado at Boulder

Concurrent Sessions | 1:30pm-2:45pm
Demystifying Digital Storytelling: Narrating International Experience with Digital Media
Brian Leisinger, Heart Mountain Wyoming Foundation
Mentoring Models for Student Development in Education Abroad
Meredith Field, Bucknell University
From Fringe to Core: Aligning First-Year Education Abroad with Institutional Priorities
James Lucas, Michigan State University
Online Education, Study Abroad and the Future
Malene Torp, Danish Institute for Study Abroad

Concurrent Sessions | 3:00pm-4:15pm
What Makes Students Tick? And How Does Their Motivation Impact their Development Abroad?
Phil Anderson, University of St. Thomas
100 Cups of Tea: Cultivating Community During the Pre-Departure Experience
Erica Carley Harris (Co-chairs) and Iris Michaud, CIEE-Portland, Maine
Different Diversities: Talking to Students about Race, Physical Difference, and Other Kinds of Diversity Abroad
Hannah Taieb, CIEE-Paris,France
Making Study Abroad a Campus Priority: Measuring and Enhancing the Impact of Study Abroad on Student Success
Gary Rhodes, University of California at Los Angeles

4:30pm-6:00pm
Meet CIEE

7:00pm-9:30pm
CIEE Annual Reception at the Mill City Museum
Sponsored by Terra Dotta, LLC

Friday, November 22
8:30am-5:00pm
Exhibit Hall and Internet Café

Concurrent Sessions | 9:00am-10:15am
Building Bridges: Connecting Families to Education Abroad
Antonia Lortis, University of Minnesota
Washington Update
Michael McCarry, Alliance for International Educational and Cultural Exchange
Engaging STEM in the Learning Abroad Conversation: Experiences in Practice-Based Study Abroad Opportunities
Michael Trice, University of North Texas

10:15am-10:45am
Coffee Break & Poster Fair

Concurrent Sessions | 10:45am-12:00pm
Overcoming Barriers to Faculty-Led Study Abroad
Robin Craggs, Occidental College
Innovative Practices in Teaching Lesser Taught Languages: Lessons from the Field in Teaching Chinese, Russian, and Arabic
Cheryl Matherly, University of Tulsa
Fostering Cultural and Self-Awareness in Students: Negotiating Identity in Intercultural Transitions
Kevin Morrison, Elon University
Old Challenges and New Directions in Academic Integration: Identifying Successful Strategies
Lynn Anderson, International Education Consultant

12:15pm-2:00pm
Annual Luncheon
Featured Speaker: Ann Bancroft

Concurrent Sessions | 2:15pm-3:30pm
Social Media Balancing Act
Brooke Roberts, GoAbroad
Maximizing Student Learning on Short-Term Education Abroad: What Works and What Doesn't Using Backward Course Design
James Lucas, Michigan State University
Diversity Dialogue
Catherine Menyhart (Co-Chairs), CIEE-Portland,Maine
Carol Larson, University of Pittsburgh
Training Faculty for Faculty-Led Study Abroad Programs
Eric Schroeder, University of California Davis

Concurrent Sessions | 3:45pm-5:00pm
Distance Learning: Perils and Promise
Andrea Custodi, The Alliance for Global Education
Managing, Mitigating, and Monitoring: Risk Management in Study Abroad
Jennifer Murray, Bard College
Designing Effective Student Learning Outcomes for Education Abroad
Heidi Soneson, University of Minnesota

Saturday, November 23
8:00am-1:00pm
Exhibit Hall and Internet Café

8:30am-10:00am
CIEE Breakfast

Concurrent Sessions | 10:15am-11:30am
Oh the Possibilities! Aligning International Internships and Service-Learning Opportunities with Students' Academic and Professional Goals
Lindsay Calvert, Institute of International Education
Interrogating the Learning Space of Education Abroad: Meeting Grounds, Expanded Itineraries and the Quest for Reciprocity
Oscar Ceballos, CIEE – Seville, Spain
Student Aid Funding and Study Abroad: Aligning, Innovating, and Educating the Field
Joseph Rienti, Fordham University
On the Same Team: Study Abroad and Student-Athlete Support
Grace Johnson, The Ohio State University

Concurrent Sessions | 11:45am-1:00pm
Essential Components for Integrating Study Abroad into the Curriculum of STEM and other Disciplinary Majors
Tracy Bibelnieks, Augsburg College
An International Study Experience Model for Inter-Professional Teams of Graduate Professional Students
Jody Olsen, University of Maryland
Credit Wars: Curricular Integration and Dis-Integration in Study Abroad Programming
Thomas Bogenschild, Vanderbilt University
The Global Time Warp: Alignment, Diversity, and Study "Abroad"
Serena Fusco, CIEE – Naples, Italy