Speakers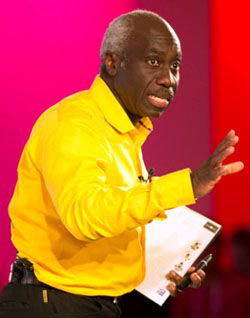 Eddie Obeng
Business Theorist, Educator, and Innovator
Leading business theorist, educator, and innovator, Eddie Obeng will share lessons for success in today's rapidly changing, technology-driven world, at this year's Annual Conference Opening Ceremony.
Known for his dynamic presentation style and no-nonsense approach, Obeng will introduce his collaborative digital learning tool – QUBE – and explain how educators and learning institutions can use it to instill organizational change, rapidly and effectively.
Obeng is a professor at the School of Entrepreneurship and Innovation at the Henley Business School. He is the founder of Pentacle The Virtual Business School, the first organization to focus on the integrated management approach of the complex 21st century. Obeng also wrote ten books on adapting to change, leadership, innovation and organization, including "All Change – The Project Leader's Secret Handbook," which was on the Financial Times' bestseller list for several weeks.
Obeng earned degrees in biochemical and chemical engineering at Cranleigh School before becoming the youngest Executive Director of a European business school at Ashridge Management College. In 2011, the Association of Project Management presented Obeng the Sir Monty Finniston Award for lifetime achievement for his contributions to the practice of project management. Obeng also served as a board member of the UK Design Council and contributed to the development of the Double Diamond design thinking model.
Benedetta Tagliabue
Award-Winning Architect; Co-founder of Miralles Tagliabue EMBT
Barcelona has undergone several urban transformations in the last few decades, and award-winning architect, Benedetta Tagliabue, has been an instrumental part. Attendees will get insight into her innovative approach to design, and the important role experimentation plays in creating spaces that are changing the landscape of Barcelona.
Tagliabue and her late husband, Enric Miralles, created Miralles Tagliabue EMBT, an internationally recognized architecture firm. Currently based in Barcelona and Shanghai, the firm focuses on public spaces and buildings for government, corporate, and private clients across Europe and China.
Among her most notable projects are the Scottish Parliament Building, Diagonal Mar Park, Santa Caterina Market, Torre Mare Nostrum, and University of Vigo's campus. She also created the Spanish Pavilion at the 2010 Shanghai World Expo, which was awarded the prestigious Royal Institute of British Architects (RIBA) "Best International Building of 2011" award.
Tagliabue's poetic, experimental architecture has won numerous international awards in design and public space, including the notable 2013 RIBA Jencks Award, given annually to an individual or practice that makes a major international contribution to the theory and practice of architecture. She has also won the 2015 RIBA Stirling Prize, 2006 National Spanish Prize, 2002 Catalan National Prize, 2005 and 2009 City of Barcelona Prize, and FAD prizes in 2000, 2003, and 2007.
Born in Milan, Tagliabue graduated from the Istituto Universitario di Architettura di Venezia (IUAV) in 1989. In 2004, she received an Honorary Doctor of Arts degree from Napier University. She's currently a jury member for the Pritzker Prize. In addition, Tagliabue is the director of the Enric Miralles Foundation, devoted to promoting experimental architecture in honor of her late husband, Enric Miralles.